they have recently moved and in the midst of moving
Jessica has agreed to share her little pumpkins that she made
and how to make them yourself!
They are so cute and so easy to make!
ENJOY!!!
Happy Together
.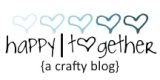 I'm very happy to be here and share with you this quick fabric pumpkin tutorial. It is so nice to have craft projects that don't require a lot of time and can be done while your little one is up and running around and this is one of them.
then...well, they just went everywhere. That is when I decided these would be playful pumpkins. So, for those of you who want to make some real quick fabric pumpkins yourself, here is how I made them:
Grab some fabric and cut them into rectangles. The long side will make it more scrunched up looking the longer you make it, and the short sides will be the approximate height.