Handmade Christmas Gifts- This is/was my goal for this year...it can be easy and hard to find the right thing for the person you love! So I wanted to put together some Guest Tutorials on some items that you can make and give as a gift to your family and friends!
Welcome to the first Handmade for Christmas at the Happy Homemaker and Momma! I want you to be able to see the creative things that are available out there in the cyber world. My goal is to bring simple-but elegant tutorials to you so that you can make these beautiful gifts easily and without breaking the budget or being over complicated! I also made a blog buttons for this celebration. If you would like to celebrate with me and be featured just leave a comment and a way to correspond with you. Here are my buttons: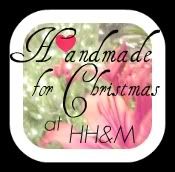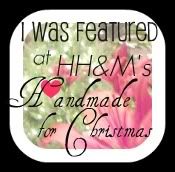 What do you think?
************
I would like to introduce my first
Guest Post; Summer from Sumo's Sweet Stuff
Please give here a cheery welcome and enjoy her wonderful Tutorial!!
I'm so excited to be guest blogging here today! It is always fun to visit other blogs and find new ones to read, so I was so happy when Kelly Jo contacted me!
My real name is Summer, but my husband nicknamed me Sumo when we were dating. (Should I be offended?) Now he's got all of my family, as well as lots of our friends, calling me Sumo. I think Aunt Sumo sounds pretty great, don't you? I live in Utah with my husband, and our two beautiful daughters - Remi & Reece!
I started Sumo's Sweet Stuff last May as a place to keep some of my crafting projects so that my personal blog wasn't overrun with them. Somehow, that developed into a place to host giveaways, share tutorials, share recipes, and feature fellow bloggers' ideas and blogs! I also use my blog to promote my etsy shop, so if you're ever in the market for some baby girl accessories, or even a little something for yourself, come on over! Every Monday is Market Yourself Monday, where you can link up your latest projects, and visit other blogs to get some inspiration!
Kelly Jo asked me to share this tutorial that I did for an elastic ring.
Here's what you need:
- elastic cord
- spacer beads
- roundelle beads (2 per ring)
- pearl or some other larger bead for the middle
- E6000 glue
Cut off a small piece of cord. Leave yourself enough room to tie and knot it when you are done.
Put your larger bead in the middle with your two roundelles sandwiching it.
String on spacer beads on each side. You can measure with your finger as you go.
Tie a few knots.
Cut off your excess cord and put some E6000 glue over your knot. This will prevent your knot from coming un-done; elastic cord likes to do that if left on its own!
Let the glue dry, and then admire it on your finger. (Yes, my fingers are chubby. I explained yesterday that they are actually just strong from my blogging and piano playing.)
I LOVE these rings, and have gotten so many compliments on them! They are easy and quick to put together. And how wonderful would this be for a pregnant lady! I get pretty swollen, and I'd love to have a ring that doesn't feel like it's tearing the skin off of my fingers when I try to put it on or take it off! These are also great gifts for those whose finger size you are un-sure of.
Now, how about a necklace to go with your new ring? I've got just the thing for you!
What you need:
- chain
- jump rings
- clasp
- tulle
- pearl beads
Start off by cutting a strip of tulle. You'll want it to be plenty wide so that you can wrap it around the beads.
Tie a knot in the middle.
Place your first bead next to the knot, wrap it with tulle, and tie another knot right next to it.
Continue doing this...you can see the progression here. Make it as long as you like!
When you get to where you want it to end, you'll want to either make a little loop like I've shown here, or just cut it off.
Loop your jump ring through the loop. If you've just cut the tulle, then you can just string your jump ring through the tulle (does that make sense?) That's the great thing about tulle; it's going to hold it in place!
Attach your chain to both sides, using jump rings. Then add a clasp to one end of your chain.
Tie a cute little tulle bow on one side. Fabulous!
For a different version, you could make a satin flower and glue that to one side, and do two strings of pearls like my friend did.
Thanks so much for having me over here today! I hope you have fun making your new jewelry!